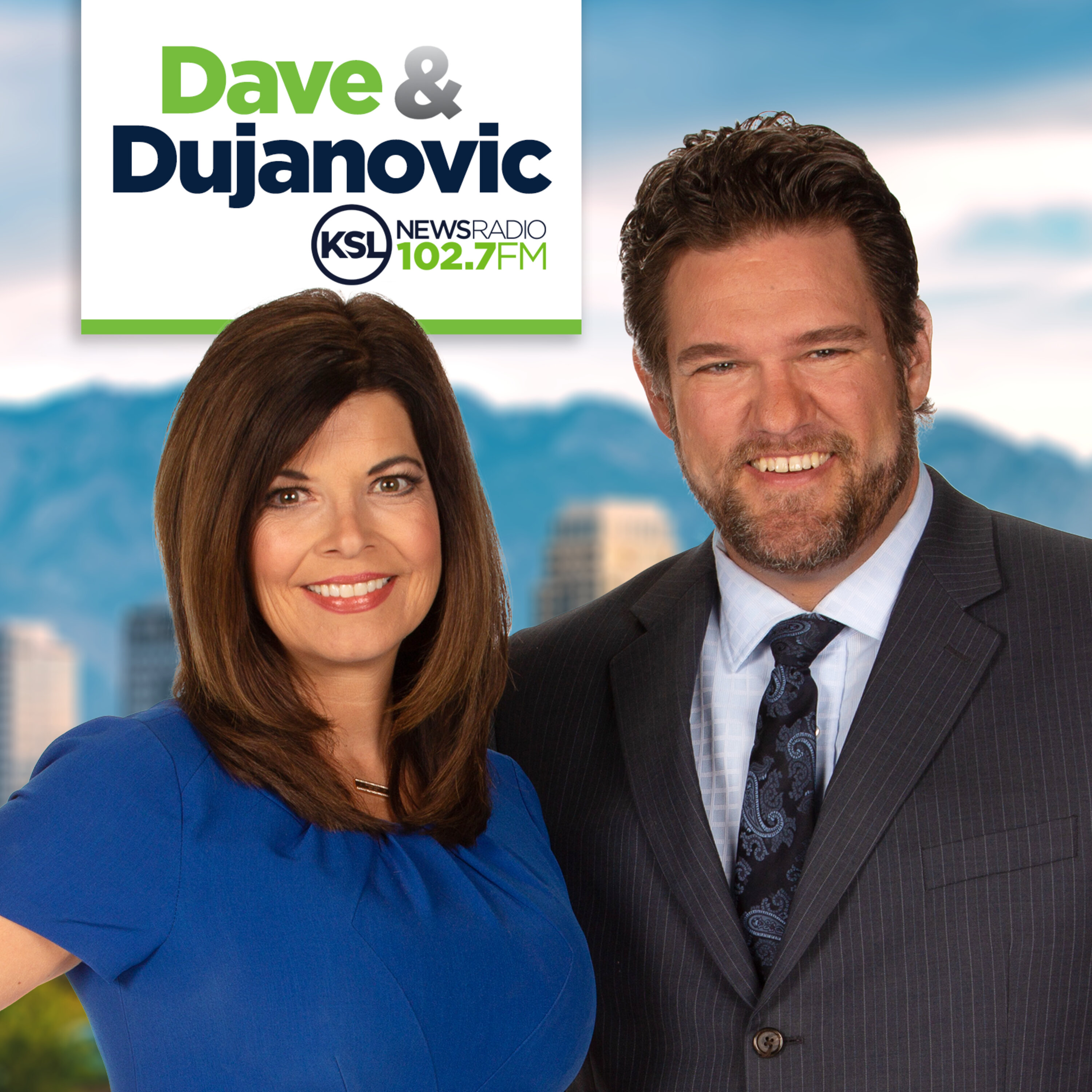 Dave and Dujanovic
What happens when a seasoned, award-winning investigative journalist and a well-known and very funny sports reporter get together to talk about news and politics? Dave Noriega and Debbie Dujanovic, also known as D2, join forces, mornings on KSL Newsradio.
Instagram for Kids (19:33)
5-11-2021
Forty four state attorney generals including Utah's Sean Reyes told Facebook in a letter, Instagram for kids could harm their mental health as well as compromise their privacy. Instagram for kids sounded like a crazy idea to Debbie...one more app for parents to monitor...one mo...
Can we get back to policy? (19:03)
5-11-2021
Washington across the board is wasting our time, a socialist saying he is fed up with the left. Many republicans may be fed up with the right. Boyd Matheson agrees and joins the discuss on how it is time to look past cancel culture and focus more on policy. We ask listeners what ...
Downtown Homelessness Concerns (07:29)
5-11-2021
We are taking a deep dive on the issue of homelessness in our streets. It turns out this isn't specific to just one area - but it is a big issue all around downtown, we speak with David Kelly with the Pioneer Park Coalition to getting a broader view of what is happening and how d...
The Law to Hunt Wolves (30:26)
5-11-2021
A lawmaker is speaking out after The Humane Society called the bill to hunt wolves a "death warrant". Senator Van Burtenshaw from Idaho explains why this law had to come into play. Pre-record - Senator Van Burtenshaw  10:05 - Steve Alder with Idaho for Wildlife chimes in on the...
Stock Market Safety in 2021 (08:32)
5-11-2021
Just before Covid hit… it had been at an all-time high of 29k. It dropped ot 17K… yesterday it hit nearly 35K. Lagoon doesn't have a roller coaster this intense. Will the ride continue? Dave and Debbie speak with money expert Shane Stewart See omnystudio.com/listener for ...
Will the $300 extra Unemployment Benefits end soon in Utah? (30:02)
5-11-2021
Will Utah be the next to get rid of the additional $300 in unemployment weekly payout from the feds? It's on top of the $500-$600 a week folks get from the state. Multiple states have announced they will be ending the extra insurance, Montana even offering a $1,200 bonus to go ...
Is it time to do away with the extra unemployment benefits? (07:31)
5-10-2021
The rate of unemployment is down but the workforce still needs help - is it time to get rid of the extra unemployment benefits that were allotted due to the pandemic? Listeners weigh in on the topic.  See omnystudio.com/listener for privacy information.
What not to do in a Ransomware attack (10:41)
5-10-2021
As we discuss the latest attack from "The Darkside" on infiltrating the gas pipeline systems and the past hack at the University of Utah. Earl Foote joins us to explain what not to do in regard to malware attacks. See omnystudio.com/listener for privacy information.
Pfizer COVID-19 vaccine for kids awaits approval (10:12)
5-10-2021
We expect Pfizer to get emergency approval for its COVID -19 shot by Wednesday for 12-15-year-olds, which means kids that age might be able to get the shots by Friday. Dr. Tamara Sheffield with Intermountain Healthcare joins the show to explain what to watch out for. See omnystu...
Senator Romney Censured in Weber County (08:47)
5-10-2021
The Weber County GOP voted to censure Senator Mitt Romney...we ask the question: is it better to just let this go? KSL NewsRadio's Boyd Matheson joins the conversation with Dave and Deb.  See omnystudio.com/listener for privacy information.
"Unofficial" Employment (17:36)
5-10-2021
We're dubbing it "unofficial employment" and questioning if cash side hustles are netting plenty of under the table money, while people "officially" collect extended unemployment benefits. Kevin Burt with Workforce Services joins the conversation to explain what we are ...
The push to hunt wolves (19:21)
5-10-2021
A new bill in Idaho allowing 90% of the wolf population to be killed.. Is this the hunt of a lifetime or a cruel approach to the wolf ecosystem? The idea is to reduce attacks on livestock and to boost deer and elk herds. Amanda Wight with the Humane Society calls in to voice the...
Ransomware Attack (29:27)
5-10-2021
Darkside is the criminal gang accused of infiltrating the gas pipeline systems and shutting down the delivery of gas, diesel & jet fuel. It's crazy to think the group Darkside MO is for the greater good -- a modern day Robin hood. Who is Darkside and is it possible it is the sa...
Homelessness (07:41)
5-10-2021
Some business owners and residents in an area of downtown Salt Lake are voicing their concerns about the lack of safety as a result of homelessness. How heroin and drug needles are infiltrating the area and what is being done to stop it. John Wojcik calls in live See omnystudio...
Local Utah events this summer (08:31)
5-6-2021
Events are BACK and there are tons to attend. KSL NewsRadio's Mary Richards gives a rundown of the festivities this summer. See omnystudio.com/listener for privacy information.
The Bees are Back! (09:10)
5-6-2021
It's the season opener for the Salt Lake Bees and it's SOLD out. The voice of the Salt Lake Bee's, Steve Klauke, joins the program to tell us what to expect this season See omnystudio.com/listener for privacy information.
Utah Supreme Court rules in favor of transgender rights (08:52)
5-6-2021
The Utah Supreme Court ruled transgender folk can update their governmental documents with their preferred gender identity. Sue Robbins with the Equality Utah Transgender Advisory Council joins the program to explain the historical ruling and what it means for Utah's LGBTQ+ co...
FLOTUS visit (09:14)
5-6-2021
The First Lady of the United States, Dr. Jill Biden, paid a visit to Utah this week. KSL NewsRadio's Boyd Matheson gave a rundown of her time in the Beehive State.  See omnystudio.com/listener for privacy information.
Gray Divorce: why more long term marriages are failing (16:55)
5-6-2021
More adults over the age of 50 are getting divorced... Why aren't married couples staying together? Dr. Liz Hale joins Dave and Dujanovic to the potential reasoning for an increase in Gray Divorce and how to avoid it at 10:35. Listeners also give us their advice to a long, health...
Petroglyphs vandalized near Moab (17:50)
5-6-2021
Ancient Native American petroglyphs, known as the "Birthing Scene" were vandalized with vulgar language and graphics. The Bureau of Land Management is offering a reward for anyone who has information on the vandalism to come forward. Nicollee Gaddis-Wyatt Bureau of Land Managem...
Prom Queen to Prison (08:28)
5-6-2021
It's the story of how far one mom went to make sure her daughter won prom queen has her facing jail time. And the 17-year-old daughter didn't get off scot-free, either. Dave and Debbie discuss how the mother-daughter duo is in big legal trouble for rigging the prom queen results...
Retire Breyer (27:10)
5-6-2021
Some Democrats on Capitol Hill are calling for Supreme Court Justice Stephen Breyer to retire prior to the 2022 midterm elections. Dave and Dunjanovic dive into the political motive behind the push with KSL NewsRadio's Boyd Matheson at 9:20. Listeners give us their take at 9:35...
China's Rocket Falling Back to Earth - Will it survive re-entry? (08:24)
5-6-2021
China recently launched a rocket to outer space...But one part, the launcher also ended up in orbit when it wasn't supposed to....and apparently is falling back towards earth.. Patrick Wiggins - NASA Ambassador for Utah on what we need to know about this unknown descent and when ...
Garth Brooks on KSL (08:17)
5-6-2021
Garth Brooks is coming to Rice-Eccles stadium this summer, Tickets on sale tomorrow for July 17th. I am first in line.. Not sure if we are ready for this Dave. The man himself was live on KSL 5 TV this morning.. Dave and Debbie break down the conversation that took place with Sh...
Granite School District Chaos - What are we teaching our kids? (08:03)
5-6-2021
If you missed the emotionally charged story of parents shouting down other parents, a Utah state senator at last night's GSB meeting -- we'll bring you up to speed and I've got new details on what's next for these public meetings. Ben Horsley pointed out that this is not a prime ...
Unite Us All - Boyd Matheson (10:00)
5-6-2021
A whirlwind of events taking place today encouraging us to take a look back to civility. From the chaos that unfolded in the Granite District to even taking a step back as we await the first ladies arrival. As state officials spend the day with the First Lady, Jill Biden -- Boyd ...
Avelo Airlines First Flight w/Rep. Blake Moore (17:39)
5-6-2021
A new airline is taking flight out of Utah and the cost for a flight to the LA area is peanuts. $19 one way...Dave and Debbie break down cheap flights. Representative Blake Moore calls in to explain his experience at the First Flight Celebration yesterday. See omnystudio.com/lis...
Bill and Melinda Gates Divorce (18:20)
5-6-2021
From the outside looking in… it was the perfect marriage. Bill and Melinda Gates had been married for 27 years… and worth $124 Billion dollars. They've donated nearly $40 billion to charity. And this week, they announced, they're getting a divorce. Divorce is a tough to...
Glendale Middle School meets the First Lady - Dane Hess/Ukulele Advisor (09:19)
5-6-2021
The First Lady is expected to arrive in Utah in just a few hours. We know First Lady Abby Cox will spend the whole day with her. as she visits a middle school in Salt Lake City - she will hear the Ukulele group play. We have the Ukulele advisor, Dane Hess on the line - who has be...
Granite School District Meeting Chaos - Where is your Civility? (26:23)
5-6-2021
This isn't a story about mask and mandates. This is a story about adult behavior at public meetings for the sake of our children -- there's a rather large group of parents who should be waking up this morning embarrassed over what they did at a school board meeting in Utah la...
How to save money on groceries (17:29)
5-5-2021
Grocery prices are on the rise. We'll look into how much they have shot up, and then we'll talk about the 4 ways to keep the monthly food budget at $100 per family member. Then we'll take listener calls for your tips on how to save money on groceries. See omnystudio.com/listener...
The First Lady is Coming to Utah (17:26)
5-5-2021
First Lady Jill Biden arrives in Utah tomorrow (Wednesday, May 5, 2021.) She'll visit Glendale Middle School in Salt Lake City, minus the kids, and then a COVID-19 vaccine clinic in South Jordan. We'll ask Inside Sources host Boyd Matheson, why Utah? The first lady's visit come...
Could Derek Chauvin win an appeal? (07:52)
5-5-2021
Could this revelation give former police officer Derek Chauvin an opportunity to appeal his murder conviction? Here's what came to light today: A man on the jury is defending why he attended a rally in DC last summer.  It took place on Aug. 28th and was commemorating Dr. Marti...
Spanking Kids (30:37)
5-5-2021
We didn't realize that corporal punishment in public school is still legal in several states -- that is until video of a Florida principal using a wooden panel on a 6-year-old girl surfaced recently. Now the principal is under investigation. Dave and Debbie discuss the issue, ...
Can you DIY artificial Turf? (09:23)
5-5-2021
Utah Governor Spencer Cox has asked residents to save water with a water-wise landscape. Can you DIY it? We're going to find out how tricky it is. David Butterfield with Butterfield Constructors explains how complicated it can be. See omnystudio.com/listener for privacy inform...
How to save water on your lawn (10:16)
5-5-2021
On Monday the governor announced that in order to conserve water, state buildings won't be allowed to water the lawn between the hours of 10 am and 6 pm. The order also requires state agencies to turn off sprinklers during rainstorms. He's already declared a state of emergenc...
Woman found in Diamond Fork Canyon (22:43)
5-5-2021
An amazing story straight out of Survivor, only it's the real deal in the forest of Utah in the dead of winter. A middle-aged woman surviving a snowy winter laced with frigid temps in Diamond Fork Canyon. In a tent, ate grass and drank water from a river. KSL Newsradio reporter...
SLC Ranked Most likeable city to call home (08:33)
5-3-2021
Salt Lake City ranked number one as the most likeable place to live in a new report from rent.com. What came into play to snag the number one spot? Dave and Debbie break it down. See omnystudio.com/listener for privacy information.
$9,000 degree or Failure to launch? (07:09)
5-3-2021
Earlier in the show we went in-depth on Utah's $9k college degree. It's online only. In general studies. Offered through Southern Utah University, and costs less than a decent used car. Are you worried this might create a generation of kids who experience a failure to launch? Se...
Baby born on board a plane (09:38)
5-3-2021
Overheard on a flight from Salt Lake City to Hawaii:  "Does anyone on board know how to deliver a baby … NOW?" In this segment we'll talk about the baby born on a Delta flight and how lucky mom was. The craziest part about it - she did not know she was pregnant. Dr. Douglas R...
Tiny Homes in SLC with Boyd Matheson (09:31)
5-3-2021
A new tiny home village to house the homeless is coming to Salt Lake City, even though some residents are concerned about what the community may become. Inside Sources host, Boyd Matheson joins us to discuss what benefits may come from this housing. His opinions were formed after...
Our Green Lawn has got to go (16:10)
5-3-2021
60% of the residential water supply in Utah is used for growing our green lawns.. Is it time to ditch our green lawns to save water in Utah? Taun Beddes from the KSL Greenhouse Show and USU Extension - joins us to explain the pros and cons behind the fake turf grass that we may n...
Southern Utah University's $9,000 degree (21:06)
5-3-2021
The $9,000 bachelor's degree offer in Utah -- it's online only. You can't substitute a salad for french fries when it comes to course selection. And it's a general studies degree. Will this challenge other colleges to lower the cost of tuition? SUU President Scott Wyatt j...
Hacks to buy your summer concert tickets (07:49)
5-3-2021
Garth Brooks is coming to town and jump-starting excitement for summer concerts. In this segment, Dave, Debbie and producer Caitlyn give you hacks to snag your summer concert tickets. See omnystudio.com/listener for privacy information.
Senator Romney at the UT GOP Convention (30:03)
5-3-2021
Monday Morning fallout for Utah Republican Party is our top story: They're getting scolded by non-Utah republicans for booing and heckling Senator Mitt Romney at the GOP convention in West Valley City. When Romney first stood up and got booed… he also got a standing ovation. Da...
COLD Ep. 5 w/Dave Cawley (06:56)
4-29-2021
Episode 5 of Cold's second season is out now. Part of this episode focuses on a mystery within a mystery.. In 1987 a man called the police in Roy and the Weber County Sherrif's Office...A mystery-within-a-mystery. The man refused to identify himself, reporting to have found a w...
Can we afford the president's plans? (10:27)
4-29-2021
A look back to our conversation earlier in the show - President Biden says we can afford the plans -- but Dave and Aimee question how accurate that statment is. See omnystudio.com/listener for privacy information.
UT GOP Convention (09:29)
4-29-2021
The UT GOP Convention will take place this weekend. Aimee Winder Newton and Dave discuss the future of the party and what new elements may need to be considered. See omnystudio.com/listener for privacy information.
Biden is speeding through his 100 days// Boyd Matheson (10:14)
4-29-2021
Is president Biden living every day like his last? Boyd Matheson discusses how fast Biden is governing through his presidency -- trying to cram this all in at once? What is the risk? See omnystudio.com/listener for privacy information.
Water Wasting and how to report it (09:49)
4-29-2021
Let's talk water -- living in Utah we are in drought territory and our state is facing a problem. Cynthia Bee, the Outreach Coordinator with Jordan Valley Water Conservancy District calls in to discuss her concerns on our states water issue, effective ways to save water, and how ...
Easy A -- Cheating in Schools (10:08)
4-29-2021
5 percent of high school students said they participated in some form of cheating, whether it was on a test, plagiarism or copying homework. 95% of high schoolers and 68% of college kids admitted to cheating. We continue the conversation as we hear from Teachers and Ben Horsley w...
Easy A- Cheating in Schools (pt 1) (08:54)
4-29-2021
5 percent of high school students said they participated in some form of cheating, whether it was on a test, plagiarism or copying homework. 95% of high schoolers and 68% of college kids admitted to cheating. We continue the conversation as we hear from Teachers and Ben Horsley w...
West Valley City Parking Ordinance (07:58)
4-29-2021
A new parking ordinance was passed in West Valley City that prohibits parking within 5 feet of a driveway…. Mixed reactions from the community. West Valley City Mayor, Ron Bigelow calls in to explain what prompted this ordinance? See omnystudio.com/listener for privacy informa...
President Biden's Address- Can We afford his plans? (09:33)
4-29-2021
It's the line that stood out to me above all others in President Biden's $1.8 trillion dollar American Families Plan. "We can afford it." 65 minute speech… and this is the line that keeps ringing in our ears. In the past year, we spent $6T in Covid relief, he wants $1.9...
20,000 new vaccine appointments available in Salt Lake County (06:48)
4-29-2021
Salt Lake County Mayor Jenny Wilson broke the news on our show that due to an unexpected shipment of COVID-19 vaccines, they will have 20,000 new appointments available next week in Salt Lake County.  See omnystudio.com/listener for privacy information.
Night Shift features on phones do not affect sleep (07:38)
4-28-2021
Since the release of the "Night Shift" feature on our phones, many are convinced that it's okay to keep scrolling as we get into bed. But a new study from Brigham Young University says it doesn't make much of a difference. So, Dave and Debbie break down the study and talk about h...
Are you hesitant to get your second dose? (08:59)
4-28-2021
This segment recaps what we learned from KSL 5 TV anchor and reporter Shara Park and UTCO Health on the topic of vaccine hesitancy, and we'll take some listener calls too.  See omnystudio.com/listener for privacy information.
President Biden's Family Plans (18:06)
4-28-2021
KSL Newsradio host Boyd Matheson joins Dave and Dujanovic to foreshadow what we may expect in Biden's address to Congress today and what exactly these plans mean. Then we'll take listener calls - do you agree with free childcare? See omnystudio.com/listener for privacy informati...
Easy A - Cheating in Schools (25:53)
4-28-2021
After more than 50 cadets were caught cheating at West Point, the United States Military Academy, we decided to look into the topic of cheating in school. In this segment we'll speak with a high school student and a teacher on how kids cheat and what happens when they do. Earl ...
COVID-19 vaccine: Second dose hesitancy (17:36)
4-28-2021
Millions of people have reportedly become hesitant to get their second dose of the COVID-19 vaccine -- hear what our KSL TV colleague Shara Park is going through as she stresses over her 2nd dose. Then a check in will the UTCO Health Department on how they are combating this issu...
Wednesday morning's Amber Alert Latest (19:50)
4-28-2021
High drama in the streets of SLC. An Amber Alert issued overnight -- a 6-year-old child found safe -- the dad in police custody. The question: how a dad with a rap sheet that involves a history of domestic violence in front of this very child have access to his child in the first...
Iron Co. School Board cancels vaccination clinics on school property (08:52)
4-28-2021
said it does not want a vaccination clinic to happen at Canyon View High School. The district said the Pfizer clinic scheduled to happen at the school for May 8th was canceled after the School Board decided it did not want vaccinations to be administered in their schools.  Boa...
Dr. Brandon Webb, Infectious Disease Physician, Intermountain Healthcare reacts to new CDC Guidelines (05:18)
4-27-2021
Local reaction to the new CDC Guidelines from Dr. Brandon Webb, Intermountain Healthcare who has been on the frontlines since the start of the pandemic. See omnystudio.com/listener for privacy information.
State Park Pay Envelope Thieves (09:24)
4-27-2021
Three people have been accused of stealing pay envelopes from 7 different Utah state parks over the past year. They were arrested over the weekend. We've learned they didn't have to MacGyver their way through it, pay envelopes provide easy access for thieves. Sure, there must be...
CDC announces new guidelines on mask wearing if you have been vaccinated (10:44)
4-27-2021
The Centers for Disease Control and Prevention updated its public health guidance on Tuesday. The agency said fully vaccinated people can exercise outdoors or with members of their household without a mask. Dave and Debbie react to the new guidance See omnystudio.com/listener fo...
Census and congress with Boyd Matheson (08:47)
4-27-2021
Even though Utah grew faster than any other state in the nation over the past 10 years, we don't get any extra love from congress. The hope of adding a 5th Congressional seat was dashed yesterday when the Census Bureau let Utah know that we're not getting a 5th seat in the Ho...
Does weather effect Utah's growth? (19:00)
4-27-2021
New census shows Utah is #1 in the nation for growth. RE agent Thomas Wright on the rumor that California cash is to blame for the housing market crunch and how Utah's weather may also be a factor.   See omnystudio.com/listener for privacy information.
Vaccine Bribes (19:09)
4-27-2021
From Krispy Kreme donuts to saving bonds, bribes to be vaccinated are all over the US. Would you take a bribe to get vaccinated? We will take you on a tour around the US to see what bribes are out there encouraging COVID-19 vaccinations, and we'll ask listeners what their price i...
Salt Lake School District has the most students in-person learning (16:29)
4-27-2021
Ironic. The school district that was the last to return to in-person learning -- has the most students currently in-person learning. If today's discussion was a final exam on the Salt Lake City School District's pandemic plan, would you give them an A or an F? A parent, Mary ...
How to teach your kids about kidnapping (19:12)
4-27-2021
It's the story we can't ignore as parents -- two reports of attempted abductions of school kids walking home. A lot of times, these stories end up being made up by the kids… but in at least one of these cases, there has been an arrest. We'll speak with KSL Newsradio repor...
Newly Elected UTCO Commissioner Amelia Powers Gardener (06:59)
4-27-2021
A new County Commissioner has been elected in Utah County after the resignation of Tanner Ainge, who took on a new role with the governor's office. Amelia Powers Gardner won 54.7% of the special election vote.. out of nine republican candidates and she is the first female to be ...
Gov. Cox vs The Bat (09:32)
4-27-2021
We have a new nickname for Utah Governor Spencer Cox…He's bold enough to tweet out video of himself trying to swat a bat out of his living room with a broom he must have stolen from the wicked witch of the west! Dave and Debbie take you through the video and go over how to g...
Vaccine Hesitancy in SLCO (10:12)
4-27-2021
Salt Lake County Mayor Jenny Wilson tweeted this morning that the county has 2,000 vaccine appointment openings. How quickly those appointments fill up and how many go unfilled will paint the picture this week about vaccine hesitancy in Utah. SLCO Health Department, Nicholas Rupp...
Lt. Governor Deidre Henderson: Vaccine inequity (08:30)
4-27-2021
With 12,700 appointments for COVID-19 vaccines available in three counties along the Wasatch Front, we speak with Utah Lt. Governor Deidre Henderson about vaccine equity and vaccine casualness.  In other words, whether all Utahns have equal access to the vaccine, and the phenome...
How can the US help India in the crippling COVID crisis? (09:56)
4-26-2021
Skyrocketing COVID cases in India .. More than 345,000 cases per day, hospitals turning people away and oxygen is in high demand. The US says it will send vaccine materials and other supplies to help the country, The US is sitting on 30 million doses of AstraZeneca so the questi...
Gold Scams (09:20)
4-26-2021
There are 3 men -- two from Utah -- who were sent to the clink late last week for an age-old scam that works like a charm on the elderly. They promised they could extract gold from dirt, and like a gold rush, investors came running. Sort of came running. They scammed $8 million...
Shipping Container Apartments (17:59)
4-26-2021
A 6-story apartment complex is nearing completion in SLC -- where rent will be under $1,000 per month. But here's the catch -- you have to want to live in a shipping container. It's literally stacked like a massive lego castle -- but it's shipping containers. How common is th...
How real is Vaccine Hesitancy? (37:50)
4-26-2021
The week that vaccine hesitancy will become more obvious 52% eligible adults with one dose, 48% without. Appointments going unused. We check in on the latest, including J&J being unpaused, with Dr. Tamara Sheffield.  Then, insights from Trevor Warner, Davis County Health Departm...
Instant Certainty w/ Boyd Matheson (07:26)
4-22-2021
Instant certainty with Boyd Matheson. And the reason we're talking about this -- the police killing of a 16 year old girl in Ohio Tuesday minutes after the guilty verdict was read in the George Floyd Murder Trial. Boyd Matheson give his insight on moments of instant certainty. ...
Vaccine Tax Credits for Businesses' - Will this help the slowdown? (10:27)
4-22-2021
Vaccine slowdown -- the president has a plan to reverse that by giving small businesses a big tax break if their employer gives them time off to get vaccinated -- will your employer pass that on to you? See omnystudio.com/listener for privacy information.
Safe Cell Phones for Kids (08:50)
4-22-2021
This is the best invention since sidewalk chalk and jump ropes. A cell phone plan for kids that has zero access to the internet, is super cheap with monthly fees, and you can text them and they can text you -- unlimited. Dave and Debbie break down how it works. See omnystudio.co...
First Lady and Friends (08:15)
4-22-2021
From living on the small-town farm to the governor's mansion, the First Lady of Utah Abby Cox has had to make quite the adjustment over the last year - she discusses what she thinks the biggest issue with Utah families today and more of what we will hear on her podcast with the p...
UTCO Property Tax Cuts (20:53)
4-22-2021
We usually get wound up because of a property tax hike. Today we're shocked at a deep property tax cut in Utah County. Almost 5 million dollars slashed out by the 2 seated county commissioners. We don't know if that'll save residents $50 bucks a year or $500 bucks a year. B...
Too little sleep (16:29)
4-22-2021
The study that reveals if you get less than 6 hours sleep a night your risk for dementia increases significantly. We sounded the alarm on our show yesterday. And tons of listeners weighed in with their nightmare sleep habits... we'll talk to a sleep doctor and ask is there any ...
DC as the 51st state - Rep. Chris Stewart (16:10)
4-22-2021
The District of Columbia is making a play to become the 51st state in the Union. Residents say they pay taxes like the rest of America but are treated as second-class citizens. They say they are subjected to the whims of the feds and can't control their budget or their laws. Repr...
Police Reform Roundtable (19:22)
4-22-2021
Across the nation there are calls for immediate changes to the way police interact with the public, in the wake of Derek Chauvin's conviction yesterday. Dave and Debbie go in-depth, and ask listeners for their feedback. What, if anything, do Utahns want to see changed? See omnys...
Utah is becoming "less blue" (16:38)
4-22-2021
A new study finds that the number of people in Utah voting for Republican Congressional candidates is declining. That's according to the Cook Political Report's Partisan Voter Index. In our last election, every Utah congressional district slid somewhat to the left. We invite KSL ...
Too little sleep may lead to Dementia (17:31)
4-22-2021
Authors of a new study say that sleeping too little in your middle-age years may increase your risk of dementia. Dave and Debbie take a look at the study followed by listener calls. See omnystudio.com/listener for privacy information.
Vaccine Hesitancy and Children/ Dr. Andrew Pavia (08:29)
4-22-2021
It's a big week for COVID-19 vaccines at Utah high schools. Today, Tooele County starts vaccinating hundreds of 16- and 17-year-olds. Monday Summit County does the same. We know lots of parents are hesitant. Dr. Andrew Pavia with University of Utah Health and Intermountain Prim...
Angela Dunn is leaving the UDOH (08:56)
4-22-2021
Did the woman who led Utah through the pandemic, State Epidemiologist Dr. Angela Dunn, just give herself a job demotion? Dr. Dunn is leaving the Utah Department of Health for the Salt Lake County Health Department. Dave and Debbie discuss their takes.   See omnystudio.com/list...
Derek Chauvin Verdict_Guest, Greg Skordas (18:26)
4-22-2021
Guilty, guilty, guilty… Derek Chauvin was convicted on all three counts for the murder of George Floyd. The question now becomes, will he get 40 years or more in prison? Or will he get his conviction overturned on appeal? Dave and Debbie talk about the shock they felt when Pres...
KSL Newsradio Vaccine Watch (06:42)
4-21-2021
The drug regulation agency for the European Union says it discovered a possible connection between the Johnson &Johnson COVID-19 vaccine and an extremely rare form of blood clot. We'll talk about how this can lead to "vaccine hesitancy." See omnystudio.com/listener for privacy i...
Peaceful Protesting (09:28)
4-21-2021
Local activists and law enforcement are anticipating protests in the SLC area once a verdict is reached in the trial of Derek Chauvin. What can we expect in SLC? Adrienne Andrews, Chief Diversity Officer at Weber State University calls in to discuss how we can protest effectively...
Representative Maxine Waters: Did she fuel the fire? (18:18)
4-21-2021
Congresswoman Maxine Waters comes under fire from the judge in the George Floyd Murder trial.. What she said sent the judge down a path judges rarely go -- admonishing her for stepping into the middle of it … and that her comments could derail the entire case. KSLNewsradio host...
Insuring Teen Drivers (16:28)
4-21-2021
In this segment we discuss the high costs of insuring your teen driver.. what can parents do to reduce the costs? We'll speak with Sloan Schrage of KSL 5 TV, and then ask listeners, "What is the mom and dad rule in your household when it comes to teen car insurance? Are they payi...
Inside the courtroom of the Derek Chauvin Trial (18:26)
4-21-2021
The jury in the Derek Chauvin murder trial is in a 5th hour of deliberation. They have a lot of evidence to sift through and relive. 3 weeks of testimony, 44 witnesses, body cam videos of Mr. Floyd resisting arrest and -- what appears to be -- Ex-officer Derek Chauvin kneeling on...
College matched-savings program (16:28)
4-21-2021
An intriguing plan from Senator Romney to help students pay for college - students give a buck -- and they get a handsome match. Dave and Debbie discuss the plan. Then we take listener calls. We're asking, "what would you differently in college?" See omnystudio.com/listener for...
The latest in the Derek Chauvin Trial (18:41)
4-21-2021
Taking you inside the jury room in Minneapolis to analyze what 5 men and 7 women are deliberating, Does their verdict in the George Floyd murder trial come down to 9.5 minutes of ex-officer Derek Chauvin kneeling on Floyd's back and neck ONLY? Dave and Dujanovic bring listeners...
Cold Season 2: What happens next Dave? (09:06)
4-20-2021
Dave Cawley joins us live to discuss this week's episode of COLD. See omnystudio.com/listener for privacy information.
A Conversation with the New Chair of the Salt Lake County GOP (19:16)
4-20-2021
After the resignation of former Salt Lake County GOP Chair, Scott Miller, new Chair Chris Null joins us live to talk about the controversy for the first time since the story broke. See omnystudio.com/listener for privacy information.