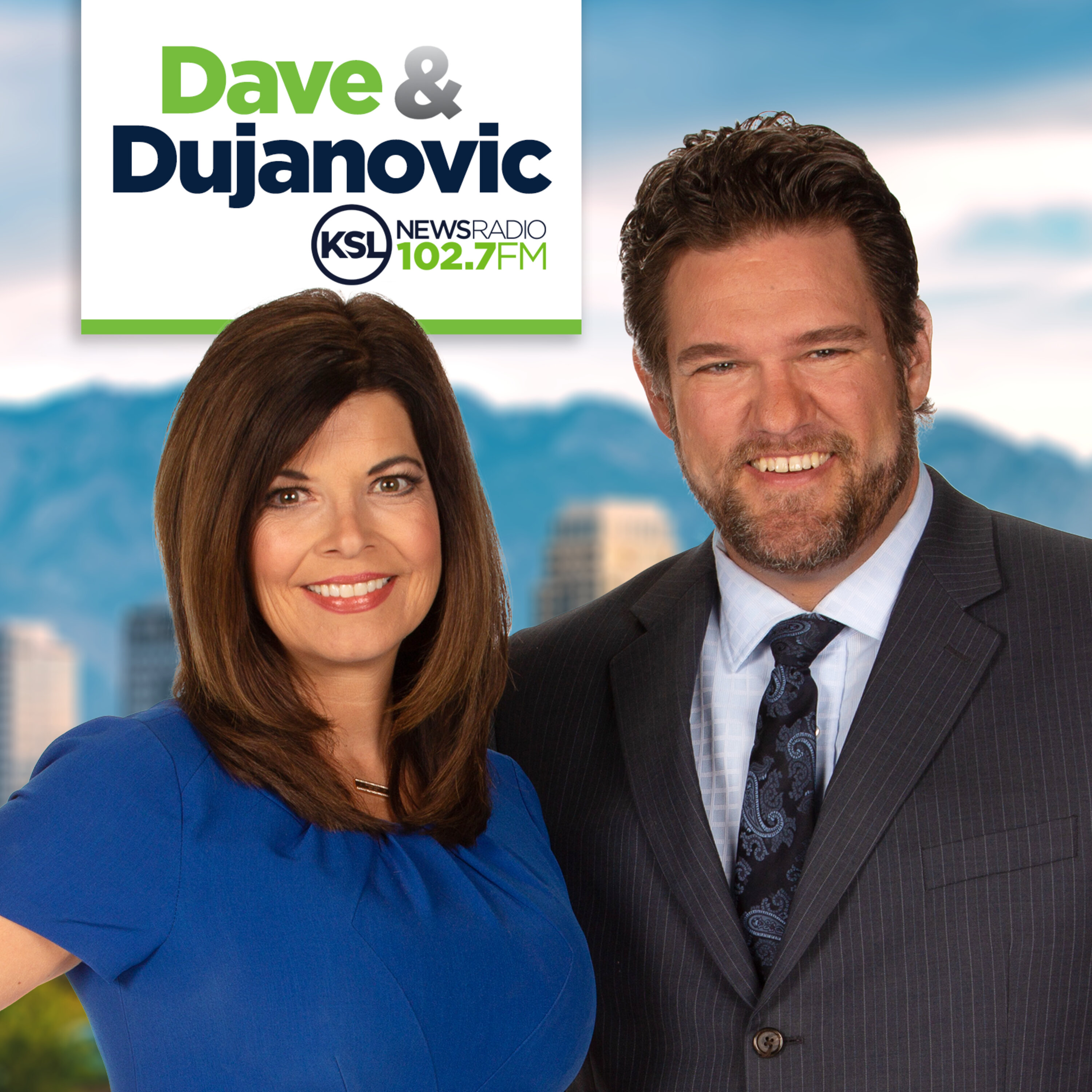 Dave and Dujanovic
What happens when a seasoned, award-winning investigative journalist and a well-known and very funny sports reporter get together to talk about news and politics? Dave Noriega and Debbie Dujanovic, also known as D2, join forces, mornings on KSL Newsradio.
Women and Voting (03:42)
10-28-2021
A new report shows that Utah has again slipped to 33rd in 2020 for the percentage of eligible women who voted, with a 66.6% female voter turnout. Robynn Scribner from the Utah Women & Leadership Project will join the show why the number is going down.
Representative Chris Stewart Reacts to President Biden's Spending Bill (10:44)
10-28-2021
President Biden had a press conference from the White House where he went over the new pared-down version of what at one point was $3.5 trillion dollar Infrastructure and Spending Bill. Representative Chris Stewart calls the show on his reaction to President Biden's conference.
Saturday vs Sunday Halloween (10:39)
10-28-2021
The big debate for this weekend. Which day will kids go trick or treating? Dave and Maura discuss what day Halloween really lands on and if we need to get rid of the trunk or treat.
Inland Port (09:29)
10-28-2021
The Utah Inland Port Authority just announced a deal with the Long Beach Port Authority. Does this mean you'll get your Christmas presents before New Year's? Jack Hedge, Executive Director of Utah Inland Port Authority calls the show to discuss the deal and what it means for Ut...
Enes Kanter vs Nike (10:16)
10-28-2021
Former Jazzman Enes Kanter just made an enormous statement on Social Media… calling out NBA sponsor Nike. Nike is in the middle of an 8-year contract with the NBA worth $1B dollars. Kanter claims that Muslims in China, Uyghurs, are being used in labor camps. Are we turning a b...
DOJ Davis Investigation Refresh (07:46)
10-28-2021
On Tuesday we talked about the Department of Justice (DOJ) findings on their investigation of the Davis School District. The DOJ found the Davis School District persistently failed to respond to reports of race-based harassment, especially on Black and Asian students. Dave and Ma...
President Biden Unveils details of $1.75 trillion spending bill (09:01)
10-28-2021
President Biden unveiled his revamped social policy and climate change plan Thursday that the White House expects will make sweeping changes to American society and which he hopes to pass with overwhelming Democratic Party support. Dave and Maura give their reaction.
Municipal Elections (09:19)
10-28-2021
Early voting for municipal elections wraps up Monday. Former state election head Mark Thomas joins the conversation to discuss voter security.
What stays in the president's spending bill? (19:16)
10-28-2021
There's an epic game of tug of war going on right now. What stays in the epic $3.5T spending bill the Democrats are trying to pass? Dave and Maura discuss the president's spending bill. Boyd Matheson joins the show to discuss if the compromises being made are good for America.
4 African Lions catch COVID -19 at Utah's Hogle Zoo (08:46)
10-27-2021
Officials at Utah's Hogle Zoo said four of five African lions have tested positive for the COVID-19 delta variant. Zoo officials said nasal swabs were "collected voluntarily through training" after the lions exhibited symptoms of sneezing and coughing. But how did they catch co...
Vaccine for children close to approval; but parents are still hesitant (07:36)
10-27-2021
Covid-19 vaccines could be going into the arms of kids ages five to eleven as soon as November-8th. An FDA advisory panel Tuesday approved Pfizer's COVID-19 vaccine for children ages 5 to 11, setting the stage for the kiddie group to start getting jabs, but a new poll by the dese...
A doctors input on Medicare expansion (11:33)
10-27-2021
Let's talk Medicare...This is one of the many issues Senator Joe Manchin is having with Biden's Social Safety net package as Democrats want to expand on Medicare… Dr. Raymond Ward and Utah Representative calls in to discuss
State Flag Change (18:27)
10-27-2021
There is a committee looking into changing the state flag, member of the committee Lindsay Ferrari joins the show. Dave really wants to change the design to something people can be proud to wear and they can recognize.
Renewable Energy (01:39)
10-27-2021
Utah is a great leader in renewable energy, from solar, wind, and even geothermal. John Karakoulakis from The Western Way Mountain West Director joins us to talk about the future of renewable energy for Utah. See omnystudio.com/listener for privacy information.
What can the Utah Legislature do about President Biden's vaccine mandate? (09:23)
10-27-2021
Utah House Speaker Brad Wilson joins the show to talk about what he plans to do this legislative session to combat President Biden's vaccine mandate, and whether there will be legislation to prohibit companies in Utah from mandating vaccines.
A closer look at Centrism in Government (08:00)
10-27-2021
Boyd Matheson interviewed former Senator from Connecticut Joe Lieberman on what it meant to be a centrist and how important it is to compromise to be able to govern. Boyd shows clips from his interview with him.
New Evidence in Moab Murders (08:38)
10-27-2021
There is new digital evidence in the case of Kylen Shulte and Crystal Turner that has come to light. Defense Attorney Greg Skordas joins the show on what this means for the case.
Former US Representative Rob Bishop speaks on Utah Redistricting (05:04)
10-27-2021
Every 10 years after the census Utah redraws new congressional districts to represent Utah. 12 maps are up for consideration right now, we take a look at the different maps. Rob Bishop joins the show to talk about the different maps and the reason why he resigned See omnystudio....
Damage done by Salt Lake IT employee to police safety 'beyond measure,' charges say (06:53)
10-26-2021
Pat Reavy with KSL.com brings the latest in the charges and the consequences coming from this damage.
Salt Lake Department of Health Tells us Your Vaccination Rate By Zodiac Sign (07:21)
10-26-2021
"What's your sign" is taking on a WHOLE new meaning in the dating scene. Salt Lake County Health Department recently went viral with their correlations of zodiac signs and their vaccination rates. Amber Gentry, KSL Newsradio Producer reads Dave's chart to and discusses the popula...
DOJ investigation on Davis School District (19:07)
10-26-2021
The DOJ recently concluded it's two-year review into the investigation on Davis School District... what they found and what will the district do about it? Director of Communication & Operations for the Davis School District Christopher Williams calls in with reaction on the resul...
Pfizer Vaccine Approval for Kids (09:17)
10-26-2021
Vaccines for kids! Today starts the process to seeing approval for vaccines for kids ages 5-11. Will this move the needle for ending the pandemic in Utah? Rich Lakin, Immunization Director with the Utah Department of Health calls in next to explain this process and what this mea...
Utah Lake and man made islands (09:42)
10-26-2021
There is a proposal out there involving Utah Lake… that includes grand plans for multiple islands to serve different recreational and wildlife needs as well as a new residential and retail community. Eric Ellis Executive Director Utah Lake calls in to explain the pros and cons ...
Tax the rich on unrealized capitol gains (08:56)
10-26-2021
Tax the rich -- but this time we are looking at a new possibility to tax unrealized capitol gains.. stocks.. which many billionaires thrive off of. The Biden administration's idea to tax billionaires' unrealized capital gains may sound good to the tax-the-rich crowd.. But In...
Democrats sneak immigrant provision (11:31)
10-26-2021
The dems are scrambling to address immigration in the framework to expand the nation's safety net.. We have heard little about this strategy.. But alot about spending. James Wallner is a senior fellow at the R Street Institute. His research focuses on the separation of powers, ...
Shoot to Incapacitate (16:58)
10-26-2021
Shoot to incapacitate. Is this the future of law enforcement? It is happening in Georgia and one Utah Police Chief has also taken the training. Ian Adams, director of the Fraternal Order of Police calls in to explain this training.
President Biden's polling down in Utah (10:26)
10-26-2021
We have talked about it before... Biden's approval ratings nationwide have been taking a toll in the past few months.. and yesterday Deseret News and the Hinckley Institue released a new survey on what Utahs approval rating is for the president.. 65% of Utah voters disapprove of ...
Rain, snow and bomb cyclones (08:50)
10-26-2021
Lake Tahoe went up 6 inches in 24 hours… Just 6 more feet to go. Grant Weyman, KSL Meteorologist,  joins the show to explain what this storm means for Utah and our upcoming snow.  See omnystudio.com/listener for privacy information.
No More Sales Tax on Food (20:29)
10-25-2021
In 2019 the Utah Legislature considered increasing the state's food tax as part of an effort to cut income taxes. Now a legislator is looking into eliminating the sales tax altogether. Representative Rosemary Lesser joins the show to talk about the bill she will propose on the up...
Dads on Patrol (06:00)
10-25-2021
A high school in Louisiana had 23 students getting arrested in 3 days due to fights! Parents finally had enough and decided to take care of business on their own. The dads created a group and there have been no incidents at the high school since.
Aligning Elections (09:02)
10-25-2021
In general, local elected officials make decisions that have more impact on our daily lives than national ones do. School-board meetings have become a focal point, with parents arguing over a range of issues, from Covid-19 learning protocols to the inclusion of Critical Race Theo...
Sowing Doubt in Elections (08:12)
10-25-2021
Trump isn't the only one who is questioning elections, now the democrats are calling into question some other election results. We have Boyd Matheson from Inside Sources in to help us see if these seeds should even be growing in the first place.
January 6th on Rolling Stones Magazine (20:33)
10-25-2021
Rolling Stone magazine is reporting that two planners of the January 6th pro-Trump rally that led to the Capitol invasion met with members of the White House and Congress for weeks before the event. But they also admit nobody knew how it would turn out. The House is continuing i...
Bluffdale Mayor Race (10:42)
10-25-2021
The Bluffdale city council met behind closed doors for what the city called "investigative proceedings regarding allegations of criminal misconduct" against John Roberts, who worked as a firefighter for the city for more than 40 years and ran the department full-time for 10 y...
Prop Guns and Death (18:26)
10-25-2021
An absolute shock and tragedy: Alec Baldwin accidentally shot and killed up and coming DP Halyna Hutchins on the set of upcoming western movie, "Rust". What went wrong? How could this tragedy have been avoided? Should this movie be continued to be made? Clark Aposhian, Chairm...
Let the Spending Begin (10:16)
10-25-2021
The White House says they had a very productive meeting with Senator Joe Manchin this weekend and Nancy Pelosi says they are inching closer to a deal on the second half of the infrastructure plan. ABC's White House correspondent Karen Travers joined Utah's Morning News to ta...
Wild Utah Weather (09:20)
10-25-2021
We have been having a howling morning here at broadcast house, what gives? We invite Mary Richards on the show as a part of Wind Watch, and Heather Kelly to give us some snowy updates for later on this week.
IT Worker for Salt Lake City Arrested in Huge Sting (25:54)
10-21-2021
An IT employee for Salt Lake City has been arrested and accused of assisting a Bountiful man who was recently charged with Human Trafficking. Patrick Kevin Driscoll, 50, was booked into the Salt Lake County Jail on Wednesday for investigation of two counts of computer crimes, exp...
No More Plea Deals (09:19)
10-21-2021
You use a gun to commit a crime, no more "Let's Make A Deal" once you land in court. Plea Deals and lighter sentences- they make us less safe. We bring in DA Sim Gill to weigh in on these changes.
Truck Driver Shortage (04:19)
10-21-2021
The trucking industry is short 80,000 drivers, according to the American Trucking Association. Many are retiring, or dropping out of the industry.. which is resulting in this backlog in the supply chains because there are not enough people to pick up cargo.
Utah Lawmakers call for Audit of Last Years General Elections (12:03)
10-21-2021
It's the conspiracy theory that won't die. It happened in DC last year, and it's made it's way to Utah. Utah lawmakers calling for an audit of LAST YEAR's general election we'll ask one of the county clerks who's being targeted to defend the integrity. We speak with Represent...
Ramp Tax (18:12)
10-21-2021
10:05 The city of Kaysville is proposing a RAMP Tax (Recreation, Arts, Museums, and Parks). Michelle Barber, Kaysville City Council Member joins the show to talk about what the tax will do to the city. We take calls: Do you like the idea of a special tax dedicated to Recreation, ...
Akosita Kaufusi Murder Gone Cold (09:19)
10-21-2021
SGT. Melody Cutler from Unified Police Department joins the show to give an update on the case of Akosita Kaufusi who was found dead last year.
Brian Laundrie's Notebook (08:27)
10-21-2021
What is in the notebook that was found belonging to Brian Laundrie? Can it make an impact on the case? Defense Attorney Greg Skordas joins the show to talk about the importance of this discovery.
Election Integrity (18:51)
10-21-2021
Election Integrity 9:05 There are many committee hearings in Washington D.C discussing the integrity of the 2020 Presidential elections. What politicians are saying the issues are. We take Breaking News from Florida as Police Officers give an update on Brian Laundries' discove...
Virginia Race (08:42)
10-20-2021
Dave and Debbie have their eyes on Virginia's gubernatorial contest as this race is seen to be a testing ground for how well President Biden is doing among voters.
The Race for Sandy Mayor (08:59)
10-20-2021
Sandy Cityhas 8 choices for Mayor in the upcoming elections! This includes 4 City Council Members, the council's executive director, a former council member, and a well-funded outsider! Jason Perry, Hinkley Institute of Politics
Where to escape Domestic Violence (08:55)
10-20-2021
Where to escape Domestic Violence
Search Warrant Issues in the case of Gaby Ramos (09:19)
10-20-2021
An arrest warrant has been issued for the suspect in the homicide of Gaby Ramos, a local DJ for a Spanish Utah radio station (La mas picosita)... whose life was cut short Sunday morning. Chief Brady Cottam, Taylorsville PD
Weber High Threat (18:04)
10-20-2021
It all begins when FBI agents get their hands on Instagram messages laced with terroristic threats" asking for firearms, vowing to pull off a "columbine-like" attack. The Weber School District is reassuring parents...kids are safe at school...after a teen girl was accused of plan...
Ransom kidnapping trap in Haiti: What does the US need to do? (16:59)
10-19-2021
They fell into a kidnap for ransom trap that's business as usual in nations with weak governments. The state department warning about travel to Haiti is dire: don't go. Price Tag for 16 Americans, $1 million EACH.  Representative Chris Stewart joins the show to discuss what th...
Are Americans to blame for the supply chain nightmare? (09:02)
10-19-2021
Buying way too much - American consumption is partly to blame You can't find anything in the stores and here is why.. Our consumption habits have finally caught up to worker shortages and shipping issues
Low voter turnout expected in local elections (09:23)
10-19-2021
Local elections are being held right now, Salt Lake County Clerk Sherrie Swensen said she is estimating about a 30 to 35% turnout with counties that have Mayoral races bringing higher turnout. Boyd Matheson, Inside Sources discusses how we could align all the elections for no o...
Senility tests for government officials (18:16)
10-19-2021
Should cognition tests be performed for aging leaders in government? Senator Bill Cassidy of (R-La) who is also a physician has opened up this discussion as he suggests there is a rapid decline after age 80. Followed by listener calls.
A drop in enrollment in the Salt Lake City schools (18:06)
10-19-2021
What's behind a sudden and dramatic decline in students in SLCSD? The data is online and a hot topic at tonight's board meeting that Dave and Debbie will be watching closely. Mary Catherine Perry/mom in the district calls in to share her insight
Religious exemptions and vaccine mandates (17:29)
10-19-2021
Washington St., BYU's opponent on Saturday, just fired their head football coach for not getting vaccinated.  He also asked for a religious exemption, but his application was denied. Greg Skordas, defense attorney explains how religious exemptions work We also take your listen...
WSU coach fired over Vaccine Mandate (09:36)
10-19-2021
BYU football's next opponent-- Washington State. They fired their head coach Nick Rolovich and several assistants after they refused to be vaccinated. Rolovich, who grew up Catholic and graduated from a Catholic High School, asked for a religious exemption but it was denied.
Wild Winter Weather in Utah! (08:07)
10-19-2021
The National Weather Service has issued another winter weather advisory that goes into effect this afternoon as more than another foot of snow is forecast to fall in some of northern Utah's mountainous areas. Grant Weyman, KSL Meteorologist clues D2 in on what's to come and how ...
The Vaccine Lotteries Didn't Work (07:43)
10-18-2021
While we are heavily focused on boosters; a good chunk of America still is hesitant to be vaccinated -- and while we had so much faith --it turns out the vaccine lotteries didn't even work! Dave and Debbie discuss why this may be.
Breakthrough Covid Cases (09:28)
10-18-2021
Colin Powell died of Covid-19 complications despite being fully vaccinated. Dave and Debbie bring on an expert to ask how common are break through cases and to discuss data among breakthrough cases and how Colin Powell's death may increase vaccine hesitancy. Tamara Sheffield, MD...
Haiti Missionaries Abducted (10:12)
10-18-2021
A group of American missionaries kidnapped in Haiti over the weekend are being held by one of the country's most notorious gangs, according to a Haitian police official. Brad Garrett, ABC News Crime & Terrorism Analyst, Washington calls in to explain the risk of ransom with the ...
The Powell Doctrine (09:50)
10-18-2021
Dave and Debbie revisit the latest on the death of former secretary of State Colin Powell. A great military leader who didn't fit into a box. He served under two Republican Presidents, but Ultimately left the republican party over its support of Donald Trump. What is the Powell D...
The Rise in Costs of AirbBnB (17:28)
10-18-2021
The prices of Airbnb have gone up and have pushed Debbie off the app for good. Staying at a hotel might be the better option next time you take a vacation. Earl Foote Nexus IT and owner of multiple Airbnb's joins us for the conversation
No More Starter Homes in Utah? (08:47)
10-18-2021
Starter homes are a thing of the past in Utah. New report: More than half of Utah's households unable to afford median home price.  As Utah home prices keep going up, Dave and Debbie explore home pricing from around the world and what home prices look like in other states.
Gaby Ramos shot by ex-fiancé in Taylorsville (08:47)
10-18-2021
Gaby Ramos' ex-fiancé was waiting for her Outside her home in T-Ville at 1 am Sunday. She arrived home, they argued. He left. Then he returned. Did she confuse him for the police when she opened the door -- and he opened fire. Many unanswered questions including where the suspec...
The Death of Colin Powell (18:48)
10-18-2021
We are shocked at the news. He was the face of America's military defense. Dave and Debbie dive into what they know and what we know and don't know about the death of Colin Powell.  A great military leader who didn't fit into a box. He served under two Republican Presidents, ...
Living in the Now? (07:20)
10-14-2021
Silicon Slopes brought many in the tech world right here to SLC yesterday -- including CEO of Apple, Tim Cook. But there is something he said outside of the tech range that really stuck out to me as he was giving advice to up and coming startups trying to find success… How can ...
The Price of Procrastination (08:48)
10-14-2021
Earlier in the show we focused on how the men in womens life, can play a big part in supporting them with getting screened because it is common that women don't focus on themselves as much as they should.  Dave and Debbie take a deep dive on the price of putting off a doctor's ...
It's Cold Outside But The Heat Is On Inside Your Home (08:41)
10-14-2021
Baby, it's cold outside! Is it time to break out the blankets or suffer through an astronomical heating bill? The US Energy Information Administration said in a new report Wednesday... That households will spend 54% more for propane, 43% more for home heating oil, 30% more for ...
Katie Couric and the edited RBG interview (09:37)
10-14-2021
Katie Couric revealed in her new book that she left out big portions of a quote from former Supreme Court Justice Ruth Bader Ginsburg. Couric asked Ginsburg her thoughts on athletes kneeling for the national anthem and the way Dave sees it. Couric didn't like her answer so she cu...
Worker Strikes (09:32)
10-14-2021
We have been talking this past hour about the record 4.3 million people who quit their jobs in August and employees are feeling more empowered than ever. There are almost half the strikes this year than in 2019 but there is one strike that caught my attention…Boyd Matheson from...
What Do Workers Want? (18:21)
10-14-2021
There's a problem in Utah… Unemployment is too low, 2.6%. Business owners can't hire enough workers. Dave and Debbie are asking what do employees want? What do they value in a  business and what will it take for them to jump ship from one job to another. Dr. Tara Van Bommel...
I'm Calling It Quits! (08:34)
10-14-2021
More and more workers are breaking free from their jobs -- Americans are quitting their jobs at record rates! The Labor Department said that quits jumped to 4.3 million in August, the highest on records dating back to December 2000, and up from 4 million in July. Unemployment in ...
The Great Resignation (08:56)
10-14-2021
It's called the great resignation. Lots of news coverage, CNN wins show stopping headline : a record 4.3 million people quit their jobs in August. What exactly is going on with the working force as of late? We take a deep dive over the next hour to uncover this mystery.
How The Men In Your Life Can Help With Mammograms (09:33)
10-14-2021
The numbers are in: 40% Utah women blew off their mammograms last year. We could talk about b/c rates, or the risk of blowing them off. Debbie wants to talk about how husbands, boyfriends can help us. Tim Hughes/UMN joins us with tips and tricks of his own.
Save Money On Your Heating Bill (08:18)
10-14-2021
Winter is coming, and that means the return of the heating bill. The US Energy Information Administration said in a new report Wednesday, that households will spend 54% more for propane, 43% more for home heating oil, 30% more for natural gas and 6% more for electric heating. Acc...
Wild Weather in Utah (09:16)
10-14-2021
Dave and Debbie talk about the gloomy weather hitting the state and want to find out when the sun is coming back to Utah. How does this effect our severe drought status? Can we ever actually get out of the drought? What does drought even mean? Grant Weyman answers all these quest...
William Shatner in Space! A Recap (07:57)
10-13-2021
William Shatner, Captain Kirk Himself, just got launched into space. He was up there for 10 minutes ans 17 seconds, and when he came back to Earth, he was a changed man. We take the highlights of his very emotional return back to planet earth.
Buk Buk Criminal Charges Filed (07:46)
10-13-2021
Earlier this morning in Third District Court the Salt Lake County District Attorney's Office filed charges against Buk Buk, for the senseless murder of Aaron Lowe. Paul Nelson joins us to break the charges apart.
Full Time Kindergarten (09:06)
10-13-2021
Yesterday we took a deep dive on the discussion of Full day kindergarten -- Dave is not a fan of the idea. He found 3 kindergarten teachers who were very against the idea. Are we expecting too much from our 5 year olds? Is this just too much school for our kids to take?
Tax Revenue Surge (10:30)
10-13-2021
For the first time, total government revenues topped $4 trillion. Individual income taxes were up 27.5 percent, with 80 percent coming from the top 10 percent of earners. Boyd Matheson from Inside Sources, helps to break this down for us.
Strangulation (09:56)
10-13-2021
Strangulation. The evil form of domestic violence we don't talk about. It says I don't want to hurt you. I want to steal the one thing you need to live -- your oxygen.  Training institute on strangulation prevention. a 2008 study from the Journal of Emergency Medicine is cited....
School Lunch and the ongoing battle of Supply and Nutrition (26:02)
10-13-2021
School lunch is switching up their menus, not their choice. The director of nutrition in the Salt Lake School district had to go pick up 1300 cartons of plain white 1% milk and hand deliver them to his schools. Kathleen Harris, Child Nutrition Programs, Utah State Board of Educat...
Gabby Petito Cause of Death Revealed to be Strangulation (08:53)
10-13-2021
The cororner in WY says Gabby Petito was strangled to death. They were arguing during their road trip. Timeline the arguments and get the domestic violence council on the line to tell us how to know an argument will escalate to more than another verbal argument.
Inflation is hitting Americans HARD (15:01)
10-13-2021
Inflation has hit America hard The New York Post estimates it to be an extra $175 a month. The government says that inflation is up 5.3%. The Post says that the chief economist at Moody's Analytics says that the rising cost of food, fuel, and housing costs Americans--making $70k-...
William Shatner in Space! (12:14)
10-13-2021
To boldly go... William Shatner, at the age of 90, reached the final frontier. Himself, along with Jeff Bezos, took the plunge into space. We discuss this monumental chapter in his life, and listen in live when they returned to earth.
Gabby Petito Updates (07:21)
10-12-2021
Brian Laundrie is still missing after his Fiance Gabby Petito disappeared and was found dead near the Grand Tetons.. and In less than an hour...at 12:30 we may be learning how she died. Kira Hoffelmeyer joins us to see what we might be hearing in this bombshell press conference.
All Day Kindergarten: A Refresh (08:57)
10-12-2021
We've been having a conversation this morning about all day kindergarten. Joining us in for the conversation is Waterford Upstart representative Kim Fischer, who is giving us her expert opinion on why we should be educating our kids early for the best in beneficial success.
Where did the Stimulus Money go? (10:09)
10-12-2021
Many American families struggled through the pandemic in 2020 either because their jobs were put on hold due to the lockdown or they got fired or they were forced to stay home with the kids!... but thankfully the government was there to help!! Deseret News and Brigham Young Unive...
Redistricting & Swing States (07:48)
10-12-2021
The battle over the drawing board on redistricting is happening right now across the nation, a fight that happens once a decade after the census results come out. We are in the midst of the discussion right now and apparently swing states may just disappear. Boyd Matheson from In...
Vanly (08:21)
10-12-2021
What is Vanly? For starters, Dave sees this as a way to make passive income by renting part of his driveway to RV owners. Would you rent out a spot in your driveway? Would you rent from a stranger for a place to park for the night?
All Day Kindergarten: The Pros and Cons (28:15)
10-12-2021
Utah's resistance to all-day kindergarten, lawmakers haven't funded it, many parents are resistant to sending their 5 year old's off to kindergarten for 7 hours a day. KSL TV's report into this issue reveals a recent survey shows a number of Utah parents want it.  We take an ext...
Driving Rules for Older People (17:50)
10-12-2021
Over the weekend a 70-year-old man that was driving on the wrong side of the road in Utah, Dave and Debbie look at how other state laws deal with older drivers and if Utah should do the same. In the second half of the segment, Utah State Senator Todd Weiler joins the discussion i...
Lane Stripping UDOT (10:14)
10-12-2021
One of the biggest complaints many Utahns have is not being able to see the lines on the road after it rains, it's like they disappear. John Gleason from UDOT calls in with the paint project to restripe the lines we can't see.
Winter is Coming? (07:55)
10-12-2021
We are seeing our first taste of winter-like weather as snow has fallen in higher elevation areas and those in downtown are bundling up to the cold weather. High winds and weather are also producing power outages in some parts of the state. KSL Meteorologist Grant Weyman calls th...
Are we loving our national parks to death? (09:46)
10-11-2021
From Acadia National Park in Maine, state parks in Pennsylvania, Big Bend in Texas and Glacier in Montana, and of course Arches National Park in Moab... It isn't a secret that Americans are going outside more and it may be a cause for concern. Kyle Dunphey, Deseret News Reporte...
Is it time to put an end to library fines? (17:01)
10-11-2021
As of October 5th which, New York Libraries said goodbye to the fines. While that's not new for some places like the SLC Library others have not jumped on board. Is this a way to get more interested in going to the library? Dave and Debbie take listener calls and KSL Newsradio ...
Thousands of flights cancelled through Southwest Airlines (09:40)
10-11-2021
The company blamed the cancellations on air traffic control problems and limited staffing in Florida as well as bad weather. 8 flights have been canceled today from SLC Airport, 6 from Southwest, 2 from American Airlines. Dave and Debbie Discuss the issue and bring the latest can...
Hunter Biden's new art show: Is it a conflict of interest? (07:46)
10-11-2021
Hunter Biden is facing renewed questions about whether his art career could pose a conflict of interest for his father's work in the Oval Office after recent images from a glitzy private showing shot across social media.Do family members of people in power have an advantage and i...
What happened at Francis Peak? The race ending in search and rescue (27:04)
10-11-2021
Rainy, snowy Saturday. Shocking headline: 87 ultra marathoners missing near Francis Peak Davis/Morgan Counties had to be rescued by Davis Co SO. . D2 takes a Deep Dive into what went wrong and one thing that went right. The head of Davis County Search and Rescue calls in to shar...