Quick Guide: The Honey Harvest Festival Is The Can't-Miss Event
Sep 27, 2018, 3:25 PM
|
Updated:
Oct 31, 2018, 10:30 am
This article is sponsored by the Honey Harvest Festival at Clark Historic Farm in Grantsville, Utah.  The festival features fresh honey, honey products, and great market produce as well as entertainment and activities for the whole family. Visit the festival October 12 & 13, 2018. Admission is free.
---
Utah is "The Beehive State". Beehives are on our state flag and seal, as well as our road signs.  The honeybee is even the official insect of Utah. But there's a lot of honey and bees that you don't know. Here is some amazing information to get you buzzing for the Honey Harvest Festival at Clark Historic Farm.
---
The Bird That Guides Humans To Honey
It's not a mythical creature. The greater honeyguide is a small relative to the woodpecker.  It lives in Africa, and will sometimes guide humans to wild honey. It's true!  The bird flies toward honeybee nests, stopping short distances to call back. After the humans harvest the nest, the bird safely flies in for the leftovers. Biologists believe this behavior dates to prehistoric times.
Don't wait for a honeyguide. Create your own beehive and enjoy your own, homegrown honey. The Honey Harvest Festival is the perfect place to get started. There will be lots of experts and plenty to learn. Come to the festival and get excited.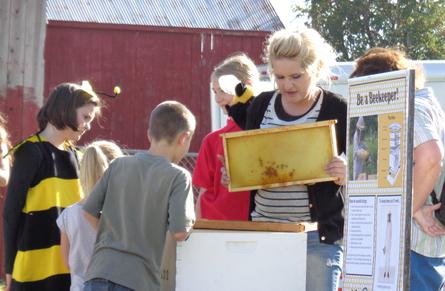 If you're not interested in beekeeping, just enjoy all the different regional kinds of honey and produce that will be available for sample and sale. It's amazing how different plants and climates can make so many different flavors and colors of honey.
---
Honey As Medicine
The ancient Greeks used honey to treat wounds and burns, a practice that continues in folk medicine today. The World Health Organization even says honey is a safe treatment for a cough and sore throat. Maybe because of its persistent use, researchers regularly study honey for medical use. One recent study even indicates honey may be good at treating some side effects of cancer treatments.
---
There's More Than Honey At The Honey Harvest Festival
The Honey Harvest Festival at Clark Historic Farm is more than just honey.  If you love music, check out the Sweet Fiddlin' Fest. Their Friday night jam session is legendary.  There are also lots of great farm activities the whole family will love like wagon and pony rides. You can even take a ride in a real Model T.
The Honey Harvest Festival is perfect for kids of all ages. The Clark Historic Farm is a working farm, so you know there will be a petting zoo. Also, make sure you get your children into the crafts that will be available. They'll love it.
Clark Historic Farm is easy to get to. Just head west on I-80 to Grantsville and follow the signs to 378 West Clark Street. You'll be there in no time.
We want to hear from you.
Have a story idea or tip? Send it to the KSL NewsRadio team here.